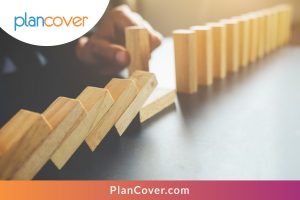 Some events are unexpected. They can hinder your business operations. They come with huge losses. And in extreme cases, they can even be a cause for the permanent shutdown of your business. So, it's important that you're aware of business interruptions and prepared for these events to ensure minimized financial impact and optimized business continuity.
In that context, here are four unexpected business interruptions you should always stay prepared for:
1) Fire:–
In the US, per research, there are about 37,000 fires at industrial or manufacturing facilities annually. This results in $1 billion in property damage. (1) In countries where fire safety guidelines aren't stringently enforced and implemented, the number of fire incidents on the business property – and the loss resulting from it – can be much higher.
2) Wind:–
Amphan cyclone that hit West Bengal in May 2020 brought an economic loss of $13 billion in India. (2) Thousands of businesses were left un-operational and un-attended for weeks. This is an extreme example. At times, just the strong wind that may cause a tree to fall on a business premise can lead to business interruption.
3) Flood:–
Did you know 12 percent of India's land is prone to floods? (3) In fact, in 2018 floods, India suffered a loss of Rs 95,736 crore. (4) When water starts overflowing in a city, it can lead to the shutdown of a business for weeks. This can result in huge business losses in multiple ways.
4) Lightning:–
This is another natural calamity that can strike anytime. Not only does lightning causes deaths but it also results in short-term business interruptions. Properties are damaged; electric poles fall; electricity goes out for days; plants are uprooted.
"Other" Types of Business Interruption
There are several other types of business interruption that may not necessarily fit the static definition of "business interruption". Meaning, they won't be covered under standard business interruption insurance. But they do interrupt the business nonetheless, hindering its day-to-day operations in one way or another.
For instance, if a customer sues your business for faulty products, it would interrupt your business to an extent. The scale of this interruption can be significantly magnified if the lawsuit starts getting press attention. It would affect your business operations and eventually profit margin. This is just one example. Getting sued by employees, partners, investors or any third-party may result in some form of operational and financial interruptions. The same goes with instances of cyber-attacks.
These events shouldn't be discounted when talking about possible business interruptions that you should always stay prepared for.
How to Counter Such Disruptions?
Most of such business interruptions cannot be avoided. There are no preventive measures. So, the only way forward for the business owners is to be financially prepared for the worse. When any of such instances happen, they must have adequate financial cushioning to absorb the shock and bounce back on track. Meaning, investing in the right business insurance policyThe legal document issued to the policyholder that outlines the conditions and terms of the insurance; also called the 'policy More is essential.
For interruptions like fire, flood and cyclone, there comes business interruption insurance. A standard plan will provide coverage for loss of gross profit, increased cost of working, and standing charges. The coverage can be widened with extensions to cover the cost of a temporary relocation, payroll, loan payments, and more.
As mentioned earlier, per the non-static definition, 'interruptions' can come in different ways and forms; like when someone sues your company. In such cases, relevant liability insurance policies need to be purchased.
There are many types of liability insurance policies, from D&O insurance policyThe legal document issued to the policyholder that outlines the conditions and terms of the insurance; also called the 'policy More to professional indemnity insurance to errors & omissions insurance.
Please read What is Liability Insurance (and Different Types of Liability Insurance): A Comprehensive Introduction. Depending on your unique needs and requirements, buy the right policyThe legal document issued to the policyholder that outlines the conditions and terms of the insurance; also called the 'policy More accordingly.
If you need any more help, feel free to get in touch with us. As one of the leading insurance brokers that's trusted by thousands of business owners, we would love to help you fool-proof your business against possible interruptions. Contact us today.