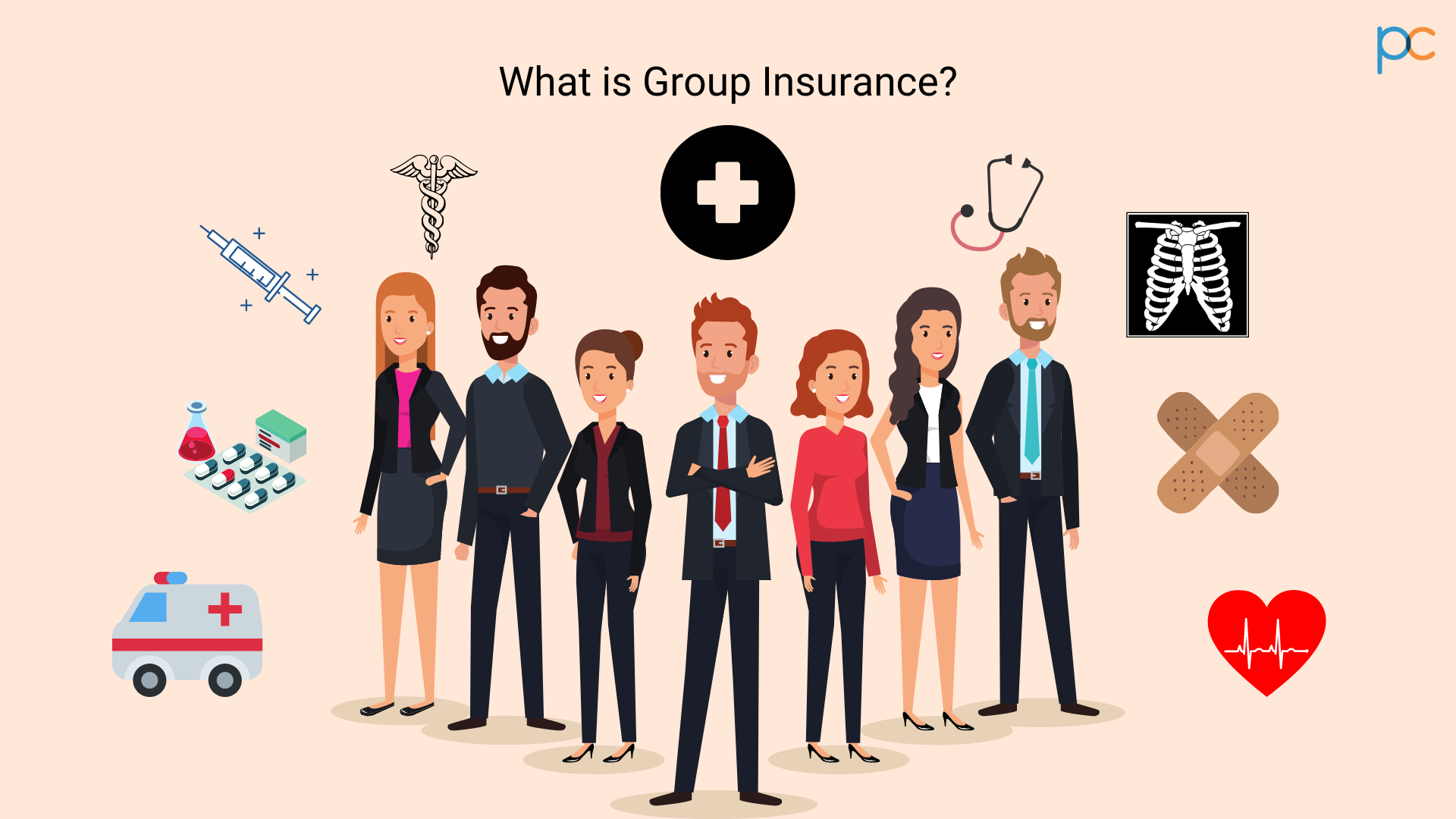 A group health insurance indemnifies the health care needs of a group of individuals. These individuals are part of a recognised group such as associations,trade unions, business groups, employer-employee etc. Generally an employer or an association chooses such plans for their employees or members.
There are different types of group insurance available in India such as health insurance, travel insurance, accident insurance and many more. Different types of insurance policies offer different benefits and features depending on the needs of the groups. However, before diving deep into the types of group insurance policies, it is important to understand the types of groups.
Types of Groups
Every group or organization is different from one another, and so is their requirement.
Their need for the group insurance policy depends on the kind of group or organization they are.
Formal Group: These groups are the ones with employer- employee relationships such as companies and organizations. These groups are created to achieve a specific goal and are built by management. These are formulated based on a certain organized structure, in hierarchical form. In these groups the employer purchases the insurance policy to insure its employees.
Informal Group: As the name suggests these groups do not have a relationship of employer employee. They are naturally created based on the basis of interest, social behavior and similar psychology. Such groups have loose structure.These groups include welfare, culture and social associations, where the head of the associations purchase the insurance for their members.
Classification of Group Insurance Policies
There are different types of group insurance policies available in India ranging from health insurance to travel insurance but the group insurance policies are classified as non-contributory and contributory.
Non-contributory: Under non-contributory group insurance policy, the employees or members do not pay any premium to avail the benefits of the policy. Employer or the association bears the cost of the entire premium.
Contributory: Under contributory group insurance policy, the employees or the members of the association have to bear the cost of the premium. It can be either partial or the entire cost of the premium. For instance -the employer may be providing the benefit of the base plan. For other add on services selected by the employee, the employee is required to pay the charges. However, it may vary in different groups.
Types of Group Insurance Policies
The types of group insurance policies available in India are mentioned below:
Group Health Insurance/ Mediclaim cover
Group Personal Accident Insurance
Group Pension/ Superannuation Insurance
Group Employee Linked Scheme
Workmen/Employee Compensation Insurance
Group Travel Insurance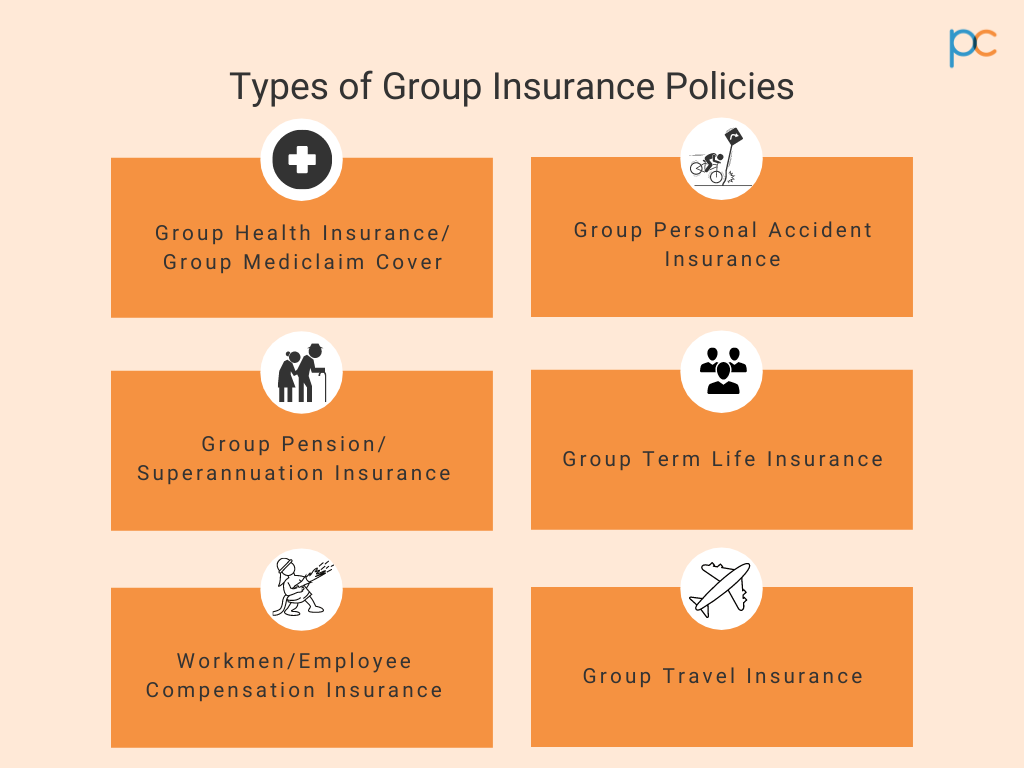 Group Health Insurance/ Mediclaim cover
Group Mediclaim Policy is a health plan offered by an employer, which provides coverage to all of its employees under the same insurance policy. Employees who are above the age of 18 and below 70 and are employed with a company are eligible for a group mediclaim policy. It is a common health policy that is extended by every organization in India today.
Key features of group health insurance/ Mediclaim cover
Customized and tailor-made policy
Provides cashless facility to the insured
Covers pre and post hospitalization costs
No physical check up required
Coverage for pre-existing illness
Coverage for dependents
Pocket friendly premiums
Covers critical illness etc.
Group Personal Accident Insurance
Group personal accident insurance is similar to group mediclaim policy. It provides cover to the employees against accidental injuries that may be caused at the workplace. If any organization is into such a business where the employees have to take risk while performing their job. These organizations especially provide accidental cover to its employees. The insurance plan covers expenses incurred on hospitalization, temporary or permanent disability and even death.
Key features of Group personal accident insurance
It provides cover for all accident related injuries
It covers hospitalization expenses including the charges of X-ray and fracture.
It proves as financial aid and back up in case of loss of earning
The insured will get half the amount of sum assured in case of disability
The nominee will get full amount of sum assured in case of death of the employee
Group Pension/Superannuation Insurance
Group pension/superannuation insurance are the plans formulated to fulfills retirement needs of an employee. It is a plan that provides a regular stream of income to the employee after retirement. The employer provides superannuation to the employee if it stays with an organization for more than a certain period. It is an alternative plan for retirement such as Employee provident fund and National pension scheme. Under group pension insurance policy an employee is financially secured after retirement till his/her death.
Features of Group pension/superannuation insurance
It is paid to an employee after retirement till his/her death.
Provided financial aid to the employees after retirement
It provides tax benefit
Employees can take along the benefit and can transfer the amount while leaving an organization
It builds up a monthly income after the employee retires
Group Employee Deposit Linked Scheme
Group employee deposit linked scheme is a part of EPF ( Employee provident fund scheme). Under this plan the employee and the employer deposit a certain amount from the salary in EPF, which can be withdrawn only after leaving an organization or retirement. It is generally offered for employees of the private sector. In case the insured person dies during the work tenure, the nominee receives a lump sum payment.
Key features of Group employee deposit linked scheme are
Employees can transfer their benefit along with them
The deposit amount is secured for the rest of the life
In the event of death of insured, nominee gets the lump sum amount
It is applicable to all the countries and is thus a protocol followed by all organizations.
Workmen/Employee Compensation Insurance
Workmen/Employee compensation insurance is a cover provided by all the organization to its labor and workers. It is governed by the Ministry of labor.
The insurance plan covers liability of the employer in case the worker is injured or dies due to an accident during employment. Additionally, it provides compensation to the worker or labor who gets injured.
Key features of workmen/Employee compensation insurance
It provided legal liability to the employer
It provides monetary help to the workers
It provides financial security to the workers who work on contracts
It provides coverage to workers in case of accidents
Group Travel Insurance
Under group travel insurance a group of travelers are provided coverage against loss of luggage, accidents, medical emergencies etc. It is not restricted to the number of people traveling at once. The group could be traveling overseas or within the country. They will be covered in both the cases. Employees who often travel to different places can also be extended with group travel insurance by the employer.
Key features of group travel insurance
No requirement of minimum number of people
It helps in minimizing the financial loss in case of loss of luggage
Provides coverage to group travelers, whose job is mainly to travel
Provides coverage to employees who travel a lot
Different group insurance policies available in India provide coverage to individuals and groups to protect them from suffering financial losses. However, wise are the ones who take advantage of such services and opportunities available in the market. with open arms.
PlanCover has been helping clients with customized group insurance plans. You get unbiased advice backed by digital capabilities and services throughout the policy to ensure your employees are not left out post purchase of the policy.