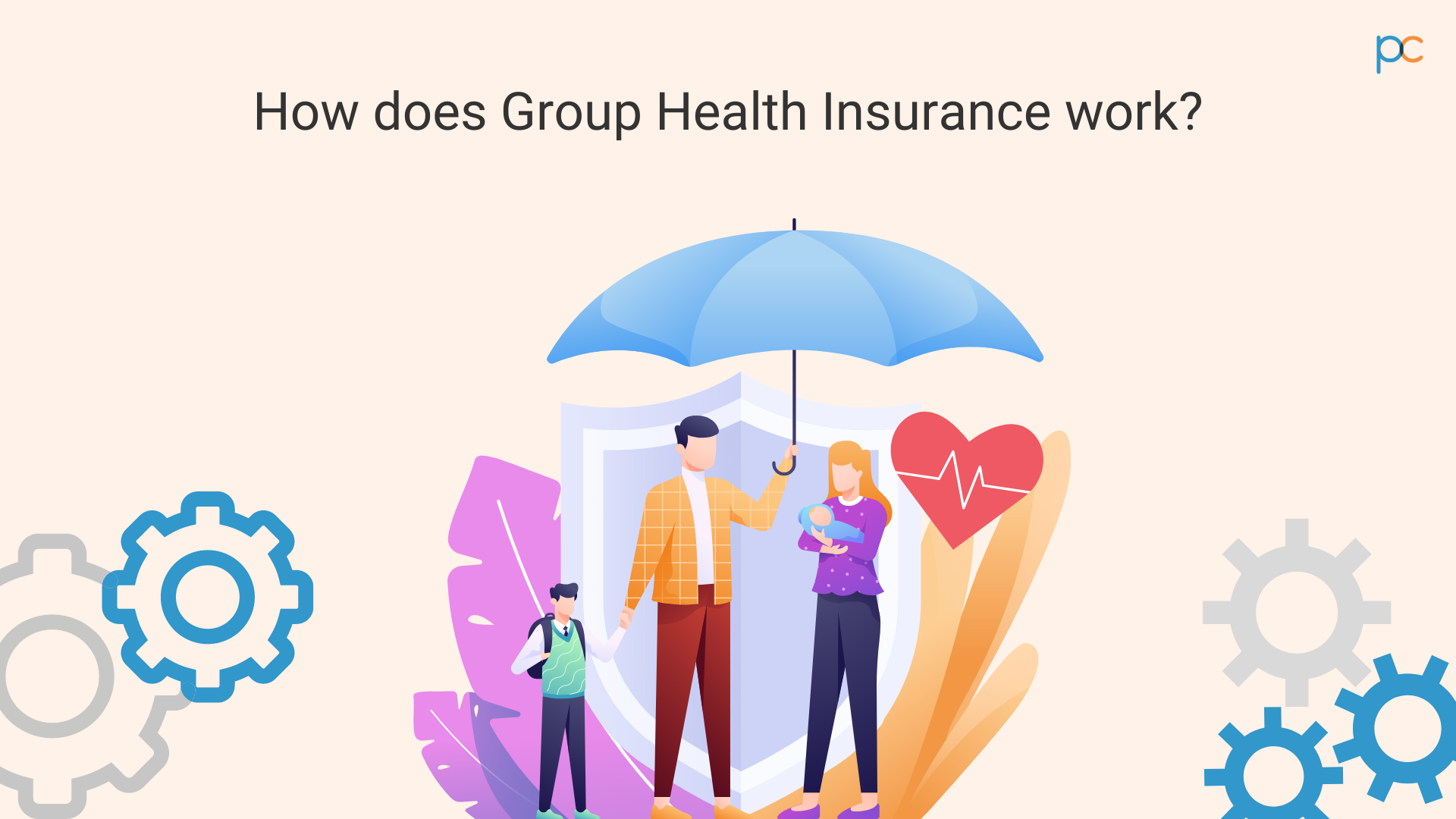 A group health insurance plan provides health coverage to a number of people who are employees of the same company. The employer usually pays the premium for this benefit, which makes it a valuable one for employees.
In some cases, family members of the employees can be covered by the group health insurance policy. A corporate health insurance plan or employee health insurance is similar to this plan.
As a result, the cost is relatively lower as compared with individual health insurance plans, and employers can also benefit from tax incentives
A Group Health Plan: how does it work?
Employers usually choose a health insurance company to cover their employees with a group health insurance plan, and the company usually pays the premium and provides it as a benefit to employees.
As all employees of the company would be covered by the group health insurance plan, the plan's basic benefits and the amount insured are the same for all employees. The employee can also add dependents such as their spouse and children for additional premium payouts, as well as their elderly parents in some cases.
What is the minimum number of people for a group health plan?
A group of employees is required in order to buy a health plan. Therefore, one person cannot sign up for this kind of coverage. During the special enrollment period, small businesses can have as few as two people in the group.
As a result, group insurance is only available to companies with a minimum of a certain number of employees. It varies by insurer and in general, a group should contain at least 7 primary members ( employees) to be covered under a group health plan. This does not include spouses or owners, so you should do the math to figure out your eligibility.
What Makes Group Health Policy More Affordable?
A group health plan is more affordable because it involves a larger number of people. Lower rates are associated with a larger risk pool. Due to this, it can offer you much lower premiums than you would typically find when getting individual insurance coverage. To put it simply:
Fewer people mean higher risks for the insurer.
When there are more people, the insurer is at a lower risk.
If there are more risks, the insurer will charge a higher premium
If there are fewer risks, the insurer will charge a lower premium
Group health insurance plans become cheaper as more people sign up for them. Employers can benefit from it by providing employees with affordable coverage and employees with coverage that is proper. Providing insurance to employees who might otherwise be unable to afford it can also be beneficial.
Group health insurance for employees serves what purpose?
Employers who care about their employees are more likely to succeed. Group health insurance describes policies for groups of people, all working under one policy.
A group health insurance plan is mostly purchased for employees of both young startups and large organizations. These plans don't just benefit their employees but also benefit the employer with people today typically favoring and retaining companies offering benefits like health insurance.
Who should purchase a Group Health Insurance plan?
A company with at least 7 employees should ensure its employees are covered by health insurance.
Young startups and small businesses
A group health insurance plan is a great option if you have just launched a startup and have at least 7 5 employees; it'll both protect your team members and reduce your tax bill.
There's no need for you to worry about the cost of group health insurance since plans are customized according to the requirements of the company and the company can structure an optimal plan suiting their budgets.
Growing businesses and medium-sized companies
Although you're a young company, you've been around for quite some time. You might want to offer group health insurance plans for your employees. Not only will this increase your employees' motivation and happiness, but it will also help you retain them for longer periods of time.
Established companies and large organizations
A large and established company provides benefits like health insurance to its employees as part of its package. If you are a large company with 1000 employees, you need to consider offering a health insurance plan to your employees and their dependents that will give them a sense of security, while at the same time increasing your organization's honour.
Benefits of a group health insurance plan
The benefits of group insurance can be enjoyed by both employees and employers. As part of their overall compensation, many companies and businesses offer their employees group insurance coverage. Here are the key benefits of a group insurance plan for employers and employees.
Members of a company's group policy pay a lower premium than they would have under a personal policy. The plan reduces the insurer's liability since the risk is spread across the whole group.

Due to the fact that group insurance premiums are often paid by employers, it can be an easy way to cover employees of different income levels. Employers can provide their employees with insurance cover through these plans at a low cost.

Employee loyalty increases when employees are insured under group plans. Group members who feel valued as members of the group are likely to remain connected to the group over time. These plans also help employers to provide a positive working environment for their employees.

Group insurance plans often cover family members of group members. For example, many group health insurance plans cover the spouse, any dependent children, and the parents of group members.

While filing their income tax returns, members of a group can claim the premiums they've paid for group insurance. Paying premiums on employees' insurance plans can also provide employers with tax benefits.

All members of a group are covered according to the same standards. By gaining the same level of coverage as people with higher incomes, it helps people of lower-income groups.

When a member leaves a group plan, it may be possible to convert it to an individual policy. This is called the portability of the health insurance plan and is subject to the terms and conditions of the insurer who has offered the group plan.

Pre-requisite requirements are not applicable to members. An individual insurance plan, however, may require the applicant to undergo a medical examination.
Group health insurance – can you get a tax credit?
Employers who offer group health insurance may be eligible for a tax credit of up to
Is 50% correct? What is the source? Since group health insurance can be expensive, that's a great way to make it more affordable.
Tax breaks can help you afford to offer group health insurance to your employees even if you're unsure if you can afford it.
The eligibility criteria
A group health insurance plan's eligibility requirements are listed below.
Group insurance plans can vary in the minimum number of members they require. Plans with less than 7 participants may not be available. Group insurance for small businesses may only be available if there are 7 members in the group.

Participants must be at least 18 years old.