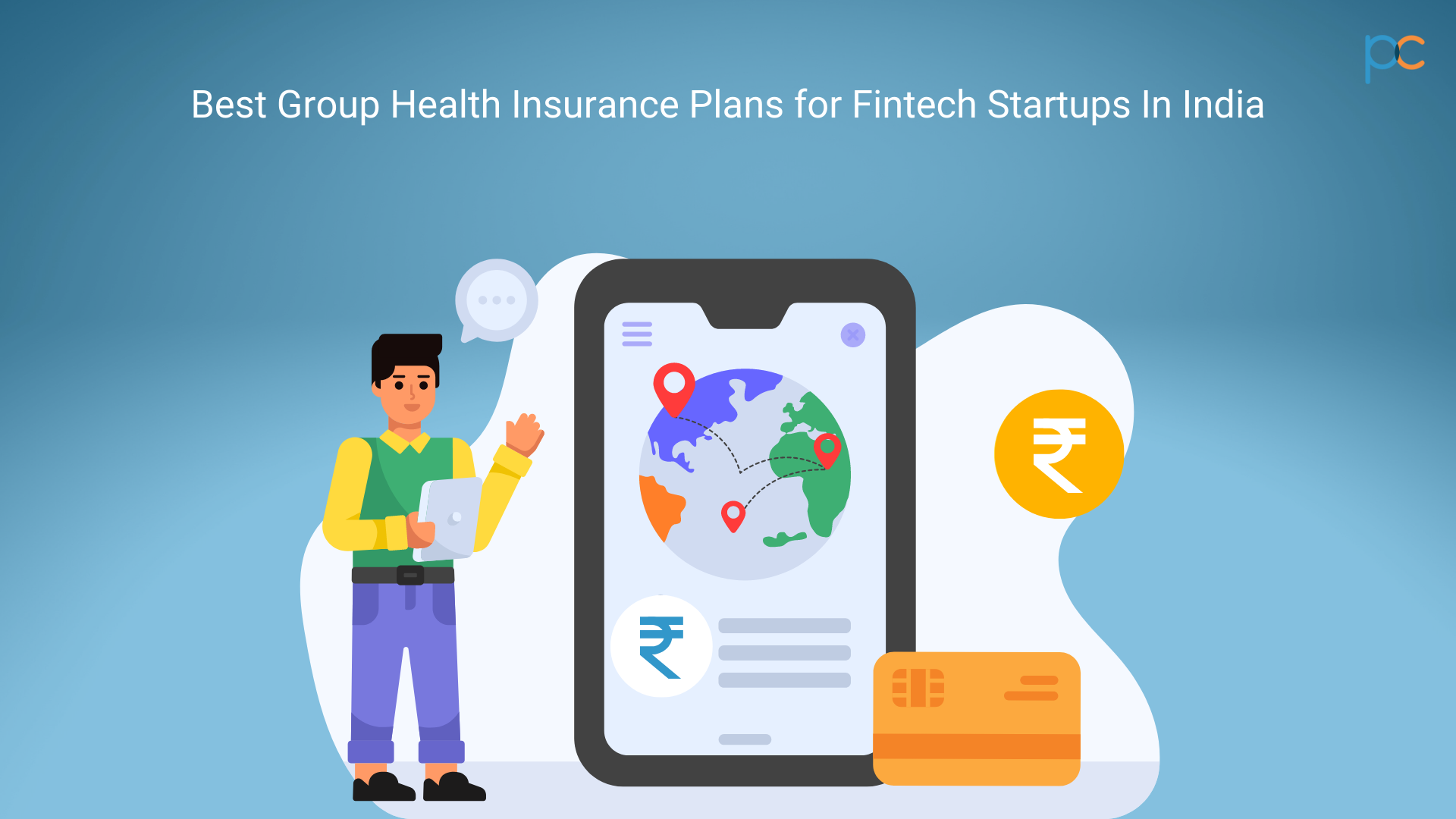 Fintech, what does this word mean? Finance and technology combinedly make "Fintech". It is a professional field that is expanding rapidly. In India, the market of fintech is huge, with the majority population being in the youth group. Thus, more startups are growing with time and acquiring a great part in the professional world.
Understanding the scopes of Fintech startups in India
Technologically advanced trading and digital financial markets have brought a revolutionary change in the economy. The scopes in the fintech field have expanded for the high convenience in the trading sector. The startups and fintech organizations are leveraging technology to ease the platforms for share trading, crypto trading, and all other digitally approved finance services.
The fintech industry has expanded over various professional sectors and industries, that include retail banking, investment management, etc. The technologically advanced software and algorithms are gradually changing the conventional banking and trading industries. India is among the leading countries that are marking a significant role in this growing industry. Some of the leading names in the business are – Lendingkart, Paytm, Instamojo, Razorpay, etc.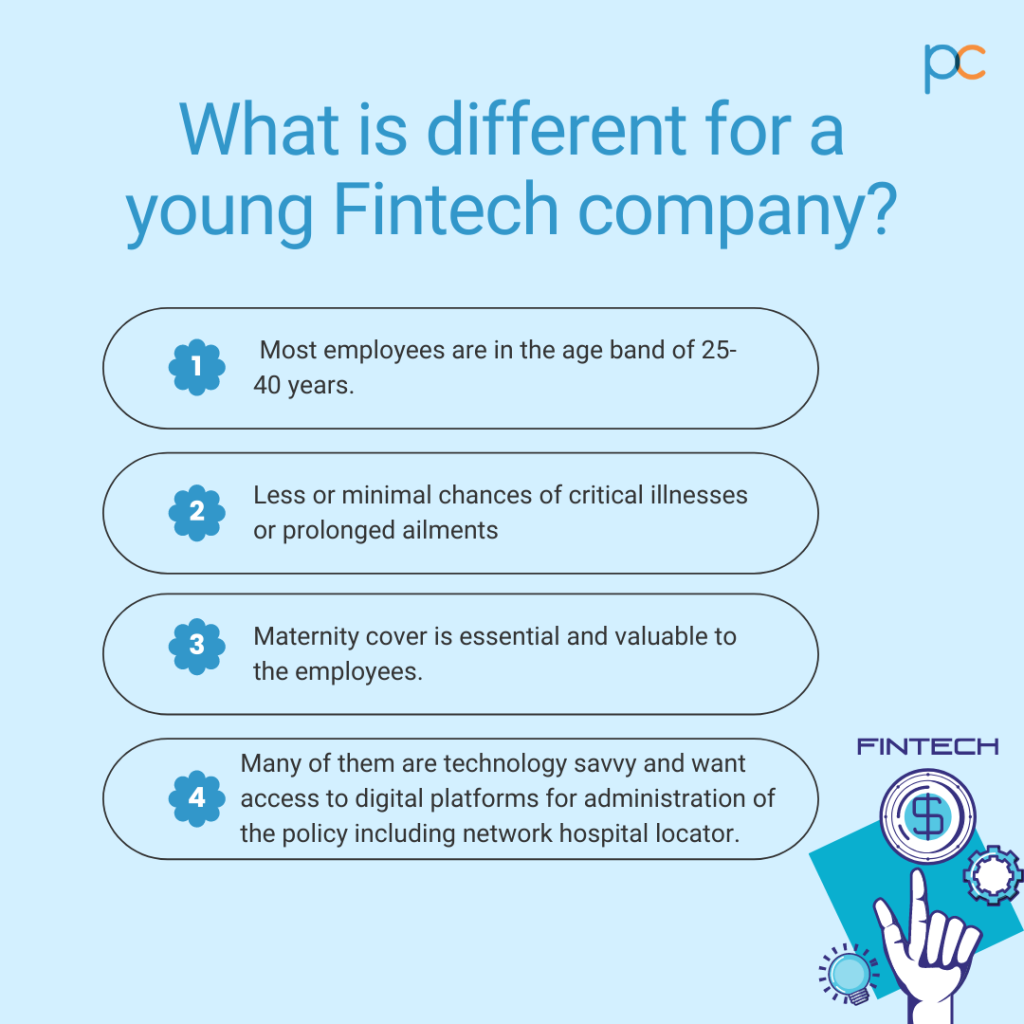 The role of group policies
Group health policies are service offerings that an employer or startup founder offers to the employees. The insurance provides medical expense support to the employees and their family members. So, an employer wanting to buy the policy for the employees in the organization should wisely select the best healthcare plan.
With so many insurance companies in the market, it can be confusing for the employer to find the best one. You can get a fair idea by reviewing the requirements of your employees and the best policy features. Read along and get an overview of the best insurance plan to pick among many options.
What do your employees need?
The fintech professionals are mostly youngsters who have a long way to go in their careers. Thus, they are always looking for better career opportunities to switch for higher pay packages. As an employer and founder of a fintech startup, you would not want the best talents in the team to leave the job. For this, you have to consider the employee needs as the priority. Do not offer the plan benefit as an obligatory service package. Instead, make it a service benefit to retain the employees for a long.
Consider the age factor – Choose a package that suits the medical needs of the employees belonging to the age band of 25 to 40. Most fintech professionals are under this age band, so there is a lesser chance of critical illnesses or prolonged ailments. So, you have to find a policy that would assist their specific medical conditions.
An example to explain: As finance aspects are stressful to manage with no control over market movement, the employees also work under a lot of pressure. Such work pressure leads to diseases like – anxiety, cardiac issue, hypertension, etc. So, they would need a treatment plan to combat such diseases. Your insurance plan should also offer specific disease-related coverage benefits to ease their needs. That was a simple example to help you understand why you have to think from the employee's perspective. For gaining a clear idea, consult with them and ask them what they look forward to while buying health insurance.
How the group plan helps them?
As discussed earlier, fintech professionals are mostly youngsters. For most employees, it is their first job and, they are yet to strengthen their financial conditions. So, having a group plan that supports the medical cost helps them during emergencies. Adding the family members into the comprehensive plan also makes a significant difference. The aging parents who are dependent on their children need reliable medical support. Group healthcare insurance helps young fintech employees to reduce the financial burden.
Features that matter
Buying a policy based on public reviews may not be a wise step as every profession has certain specific needs. For example, fintech professionals mostly have an indoor job profile. During the lockdown, they could carry on their work from their home. So, if the group plan does not have accidental injury coverage, it will not create any havoc difference. In contrast, if the job demanded outdoor activities with regular field visits, such policy benefits would have been essential. Read more to know more about what features matter the most.
Special coverage plans: Treatment expense coverage for stress-related diseases is a must. The waiting period may not play a big role as the age band is on the lower side. Even if the policy offers a 24month waiting period for covering diseases like – eyesight-related diseases, hypertension, cardiac issues, etc., it is not an issue. Carefully check if they offer 100% expense support for these diseases that are too common for employees who work under tremendous mental pressure.
Diagnostic expenses: As the average age group is young, there may not be prevailing ailments in the body of the employees. Even if there is a medical issue, they would have to undergo diagnostic procedures to understand the treatment course. Not every policy offers such expense coverage. But you have to ensure your policy offers these under an affordable plan. CT scan, X-ray, pathological tests, etc., should be under plan coverage.
Fast processing and claim: For fintech employees, time is money in the most literal sense! Thus, they would not spare time to run between offices for reimbursement claims. As an employer, you should offer a plan that they can utilize. A cashless facility over a vast hospital network eases this factor. For any emergencies, they can directly get hospitalized by producing the policy documents.
Maternity coverage and benefits: As most employees are aged around 30s, the chances of them planning about starting their family are higher. In such cases, a policy that offers maternity coverage helps the employees to reduce their financial stress. They can lead a stable life with such insurance coverage policies and in return, you (employer) get a motivated workforce!
No claim benefits: As discussed all through the article, the average age is around the 30s, for which the chances of them getting hospitalized is low. As a result, there may not be any claim throughout the year. Some policies have a special feature. They offer premium discounts and coupons for a no-claim year. You can ensure such lucrative perks by going for an insurance plan that offers premium deduction as no claim bonus. Or, some insurance companies also provide free health check-up facilities to the insured person as a no-claim bonus at the year-end. Check for such benefits to provide the best to your employees.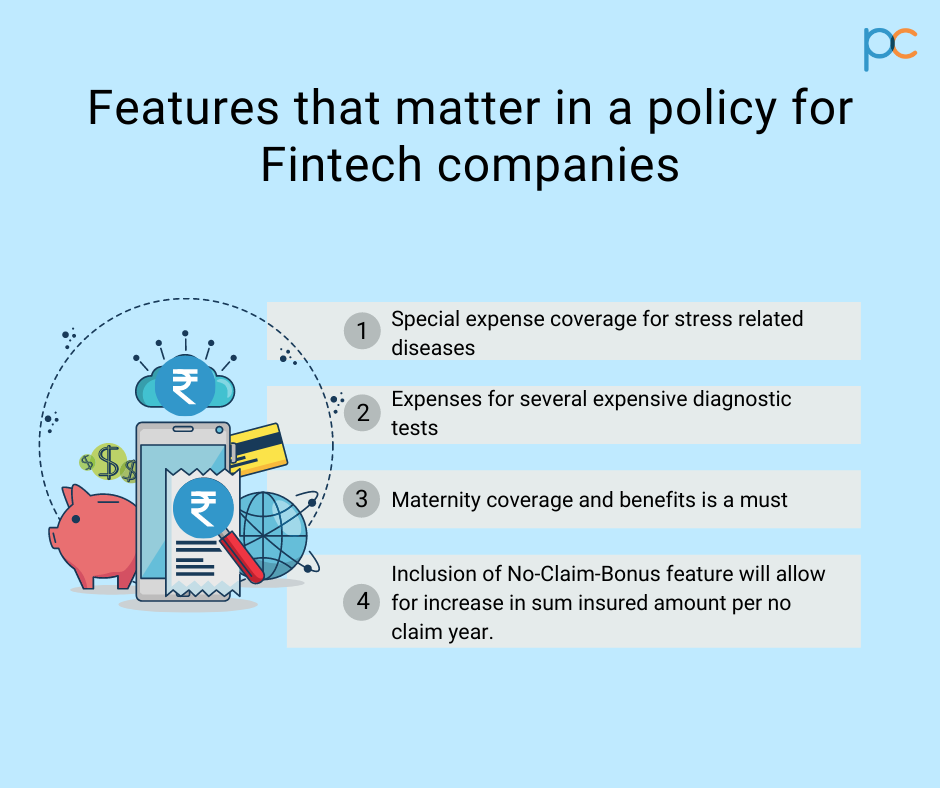 All within the budget
Finding all these features on a budget can be difficult if you search it completely by yourself. Comparing the policy features are a must for buying the best plan. Experts in the insurance business know the best policies and prices. Insurance brokers are your ultimate guide in this matter so that you do not have to decide by only reviewing the prices. They offer a comprehensive representation of features and prices to justify premium charges.
The best way to buy
Find an insurance broker who has experience offering policies to startups like yours. Startups have to be eligible for getting the policy approval. Especially for fintech startups, growing swiftly, such decisions are necessary. Consult with brokers having a wide range of insurance policies at their end so you can select the best from the rest.
PlanCover – Rely on the best to find the best policy.
PlanCover is an insurance broker company in India, offering group health policies to startup founders and small business owners. If your fintech startup is a small or mid-sized organization, PlanCover is the plan where you can resolve your insurance requirements. They sell policies to companies having employee strength between 7 to 450 by finding the best features among the many leading company insurances. With their team, you can get what you need as they offer a transparent representation of policy features. Get in touch with the PlanCover team to buy the right policy for fintech professionals.