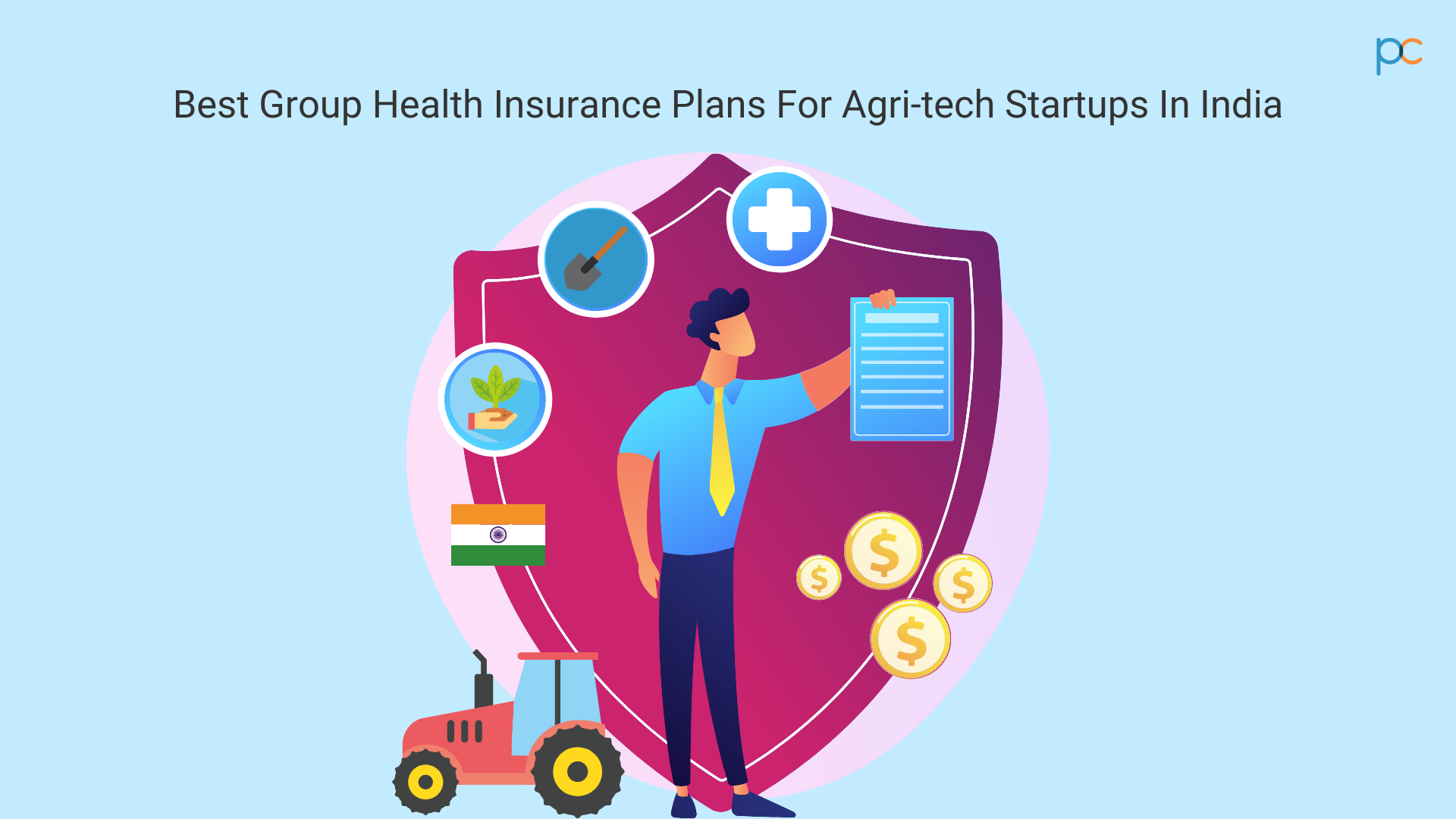 India is buzzing with newer ideas with the immense potential of the talented youth in the country. Agri-tech was an unfamiliar term for most. But currently, it has become a booming industry in India. With more people trying their luck in this field, Agri-tech startups are on the rise. Biotechnology and agricultural experts and researchers are joining hands to find better solutions. If you own an Agri-tech startup, you must have noticed the rising demand for such services and professionals. In such a scenario, it is a must for startups to retain their valuable resources. The employees need a satisfactory package that will make them not switch the company for better alternatives.
Healthcare plan for Agri-tech professionals: Group health insurance or employer healthcare plan is an excellent service benefit to improve employee retention. Group health insurance is service benefits for employees from their employer who pay the premium so that the employees and their family members can enjoy plan coverage.
Newly-established Agri-tech startups may lack resources and struggle to create a strong employee base. The insurance could be a golden opportunity. But not all group policies are right for Agri-tech professionals. What you need is to find a tailor-made healthcare plan for the employees to relieve their financial stress during emergencies.
What do they need?
How do you know what the employees need? The best way is to consult with the employees before purchasing insurance. Considering a generic perspective, the basic needs of employees from technology-based industries with medical insurance are mostly the same. They require a steady plan that offers comprehensive coverage without any hassles. With work pressure and tiring research schedules, employees do not have much time to manage such hassles to claim their medical expenses. Thus, the elementary requirement is – having a Mediclaim that offers maximum expense support with cashless benefits and other customizable plans.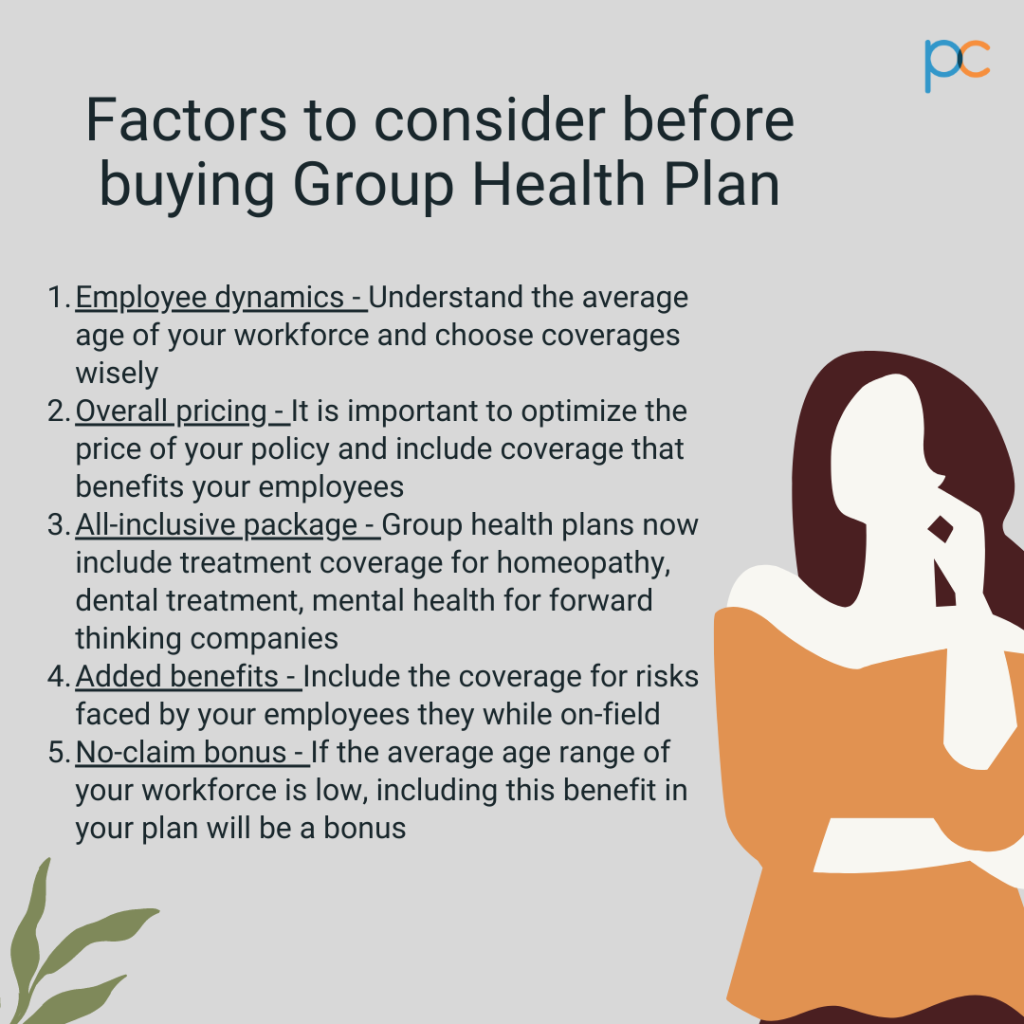 Few things to consider
As the startup founder, you will be paying the premiums on their behalf. Most employers mistakenly go for a policy only by reviewing the prices. It is a wrong step and, in most cases, does not yield the same impact as you wanted. Why? Because the insurance companies develop the group healthcare plans with multiple coverage features. With more features and plan flexibility, the premium charges may rise. Thus, most employers do not review the policy terms and only decide based on the prices. Read along to know which points to consider for the benefit of the employees.
Employee dynamics
The first noteworthy aspect is identifying the employee dynamics and characteristics of the associated group. What their average age is, what ambitions they have, how their work affects their health and so much more makes an impact! With Agri-based professionals, you do not see the average employee age over 45 as the younger generation is capturing the market with innovative ideas. Thus, you would not require medical insurance that needs to cover pre-existing diseases with immediate effect. They can manage the waiting period, unlike an employee group where most people have crossed 50. Hence, choose Mediclaim by reviewing the existing practical aspects related to the employee group in your Agri-tech startup.
Overall pricing
As an employer, you indeed have to look after the needs of the employees. But that does not mean you should offer more than you can bear! A balance is crucial when you offer long-term service benefits like group Mediclaim. You must pick an insurance plan that suits the needs of the employees working in the professional field without exceeding your estimates. If you are offering a comprehensive package (employees and their dependent family members) then review the prices thoroughly to make a reasonable deal.
All-inclusive package
Many employees also keep an individual healthcare policy alongside corporate health insurance. Do you know why? Because many corporate policies do not provide a comprehensive treatment package. The insurance may exclude treatment coverage for homeopathy, dental treatment, eye-checkup expenses, and much more. These are common necessities for the new generation currently joining the professional world. If the group Mediclaim that you offer does not bear these expenses, there are higher chances that the employees will try to move on to a better option. Provide a group policy that covers alternate medicine treatment and common problems like dental care and eye care.
Added benefits
Add-on options in group medical insurances are not that common with most companies. Agri-tech jobs are high-paying if the professional has the essential skills and talent. Thus, they can bear a part of the premium cost if they want to. Add-on benefits to extend the coverage limit are a great option to avoid individual Mediclaim plans. This way, the employer can play a part and the rest can get managed by the employees for extra medical benefits.
No-claim bonus
The Agri-tech industry in India is still flourishing, with new talents joining the profession. Hence, the average age of the employees in most startups does not cross beyond thirty-five. People under this age band do not need hospitalized treatment unless they are down with a serious illness. Therefore, the chances of expense claims are less compared to older employee groups. Insurance companies (not all of them) offer no-claim bonuses. The bonus may be in the form of a premium deduction. Or, they may offer free health check-ups or coupons to the policyholder. As a professional in the Agri-tech field, such bonuses are helpful.
Features of the best policy
Focusing on the features is a must while you buy Mediclaim insurance. You can review the policy terms by connecting to the insurance company representative or finding an insurance broker. The brokers have all the leading insurances in their offerings and find the most customizable one from so many alternatives to suit your specific needs.
PlanCover brings the best insurance plans in India for small to midsize companies in the country. Even if your Agri-based startup has less than 100 employees, PlanCover will help your needs. They sell policies to organizations with employee strength between 7 to 450 by offering the best plans that match their requirements. Get in touch with the team of PlanCover to discuss the challenges related to the Agri-tech professional field so that they can further assist you with medical benefits that will be useful for your employees.
While you discuss the policies, ensure to keep the following coverage features for providing a valuable package to your employees.
Policy coverage and network of hospitals
Agri-tech professionals have a hectic schedule for which they may face troubles with the process of reimbursement. For ensuring optimal Mediclaim benefits to your employees, the policy you pick should offer cashless treatment over a large network of hospitals. It saves a lot of time in the latter stages as they do not have to run between their schedules to claim the money.
Swift processing and settlement
Efficient processing is a must for ensuring hassle-free service. Whether it is regarding the add-on benefit processing or claim reimbursement, the process has to be swift. Check the market reputation regarding the efficiency and customer assistance of the TPA (third-party administrator) associated with the medical insurance plan.
Day-care expenses and pathological charges
Young professionals may not always need to get hospitalized for regular illnesses like flu, viral infection, etc. The treatment procedure or diagnostic tests may need less than 24hours. Many medical insurances do not cover expenses for such treatments that take less than 24 hours or where the policyholder does not have to get hospitalized. While there may be an option for reimbursement, most policies do not have a cashless facility for day-care charges and pathological testing. It is a vital feature that the insurance company should offer so you can offer the best medical support to your employees.
Online healthcare expenses
With the pandemic situations all around the globe, even medical facilities had to face troubles. During the lockdown, most doctors recommended online consultation for minor treatments. Unless you needed serious medical attention, the rest was manageable through online doctor consultation. Mediclaim policies that include such online healthcare facilities help reduce the financial burden off the shoulders. Not every insurance supports such medical checkups or consultation expenses, but you can always find a flexible add-on benefit if you review the alternatives.
Worldwide health coverage
Agri-tech professionals may need to visit other places for conference and research purposes. Not only do they have to practically visit the fields to check the efficacy of their technological device but also go for global conferences and promotions. Thus, confining the policy benefits only in the country is not so useful. The premium may get higher but this feature is essential for Agri-tech companies that outsource services.
Finding the right insurance for Agri-tech professionals
Reading this will help you as a startup founder to connect to the needs of your employees. By reviewing the requirements, you can offer the best policy for Agri-tech professionals. Aim at providing such corporate medical insurance to your employees that they do not have to buy a separate personal healthcare plan. The best way to do this is by finding an insurance selling agent who can offer you a comparative representation of the leading insurances in the market. Pick the one that has options to customize and ensures a hassle-free experience.