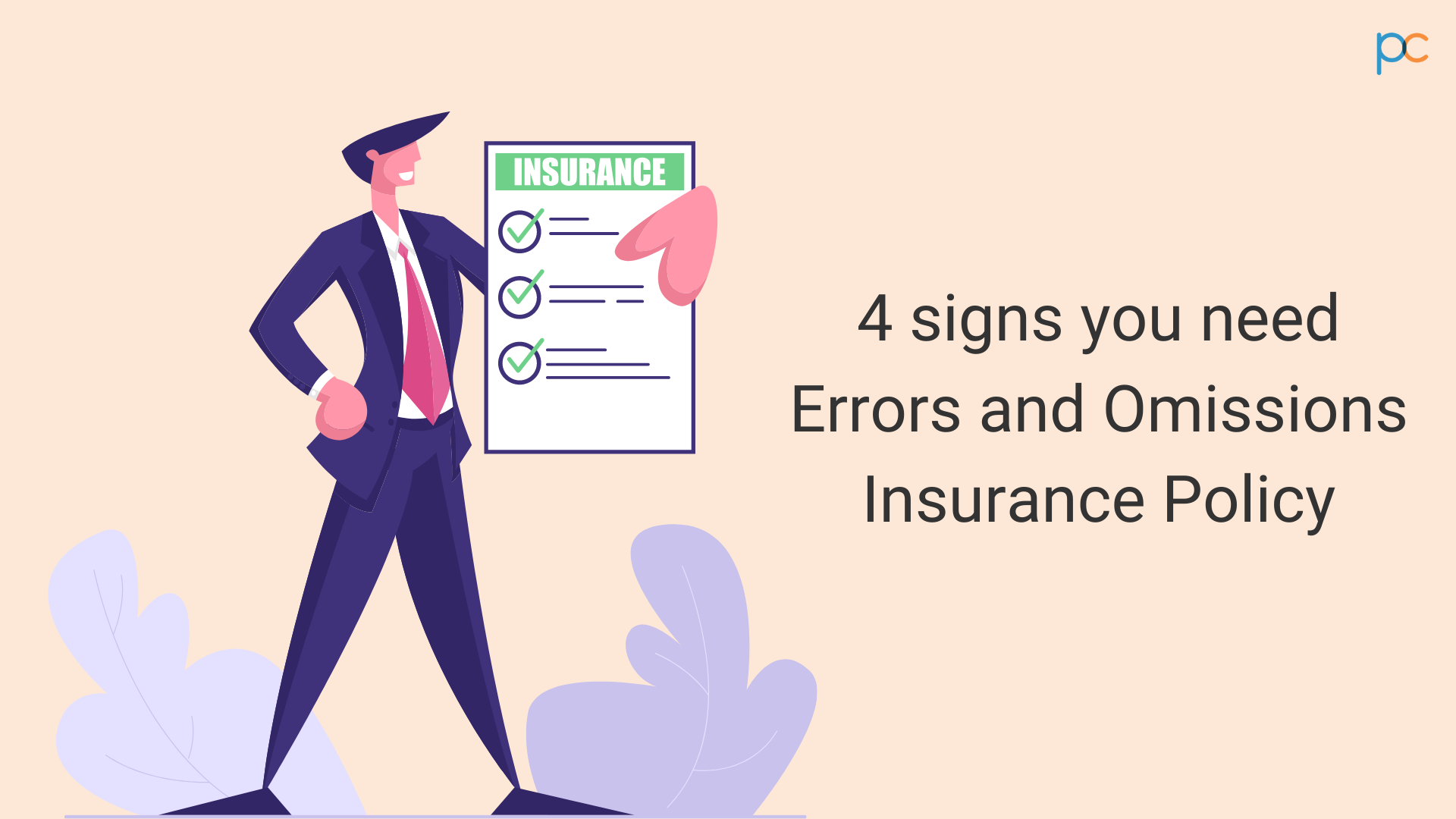 Here's something you might not have known or at least realized: Your general liability insurance policy has several gaps. For instance, it may not protect you against claims of negligence, and inadequate work. And these gaps can end up costing you big. (There are numerous examples of such instances in fact). This is why professionals and companies who work in the capacity of offering advice or service opt for errors and omissions insurance policy. It includes doctors, interior designers, wedding planners, plumbers, financial consultants, digital marketing agency, and more.
So, if you run a business that offers advice or services, you should definitely buy errors and omissions insurance, in addition to other relevant business insurance policies. here are five signs you need an errors and omissions insurance policy:
[Note: There's a notable difference between E&O and professional services. Although, many people now use them interchangeably. For a definition, please go here].
(1) You handle consumers information–
Consumers have become more aware and concerned about their privacy. They are more careful now about who has their personal data and how they use that data. If you handle customers'/clients' information, you should certainly get insured. You never know when you accidentally disclose the information or when your system gets compromised and customer data leaked. If a lot of people come forward to sue you, it could be a huge legal cost for you.
(2) It is standard in your industry–
This is quite basic. If all your peer group companies have errors and omissions insurance, you should get one too. And if you're in an industry where it's mandatory, in that case, there's no point to even have a conversation here; you must get this policy.
(3) Adds to your credibility–
There are several professions or industries where being insured adds credibility. It makes consumers feel comfortable that if they do sustain a loss, the services provider has the insurance that will reimburse their loss. So, if you're in a business that requires to be credible (this is important in highly competitive niches), errors and omissions insurance fits this requirement adequately.
(4) Your business sustainability ties to it–
If someone decides to sue you, will it hamper your entire business operations? Will it come with the cost that you can't comfortably afford? Will it affect its growth and longevity? If the answers to such questions are a 'yes', it's a clear sign that buying this policy is rather a necessity. If not, it may hamper your business sustainability if a third-party decides to take legal action against you and your company – even when their claims are misconstrued.
These are five signs that you should buy errors and omissions insurance.
Of course, this is only one of the several business insurance policies you should invest in to financially foolproof yourself and your company against lawsuits.
If you need any help, please get in touch with PlanCover and talk to licensed insurance brokers. PlanCover is a leading insurance marketplace built by HII Insurance Broking Services Pvt. Ltd. (HIBS). HIBS is an established and highly trusted IRDA licensed insurance broker with extensive experience of managing over 3,00,000 lakh claims over the span of a decade. Contact us today and let's talk.